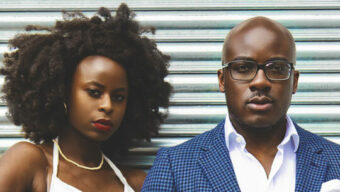 We have always taken pride in telling the stories of black founders since we started, but we can't miss the opportunity to highlight a few founders doing great things during Black History Month. Some founders you may have already read about on The Distillery. Others we haven't covered yet (but plan to). Whether they are STEM trailblazers, or mission driven and creating big impact, they each inspire us in a different way. From Kishau Rogers, who was a pioneer in STEM, to Jeff Nelson, who is now a two-time founder, these are five black, tech entrepreneurs you should know.
 Two-time founder Jeff Nelson (you may know him as one of the co-founders of Blavity) is also the founder and CEO of Cinchapi, an intelligent data platform that provides real-time analytics and machine learning to help businesses gain insights faster to drive dynamic outcomes. Nelson got his start as a developer in Chicago, St. Louis, New York and the Bay Area working with brands like MailChimp and Palantir. At Cinchapi, Jeff is building a platform to help people better understand data and use it to solve problems more effectively.
Jewel Burks Solomon, Partpic
As co-founder of Partpic, a startup designed to streamline the purchase of maintenance and repair parts using computer vision, Burks and her team built breakthrough technology poised to change the way people locate products. Partpic raised over $2 million in seed funding before being acquired by Amazon in late 2016. Burks is often cited by her peers as a trailblazer for black tech entrepreneurs. Burks now serves as a team lead at Amazon and as an angel investor. We'll be keeping our eyes open for Burks next venture.
Kishau Rogers is a pioneer in her field, although she likely wouldn't call herself that. As one of the first black women in her program at Virginia Commonwealth University, Rogers was studying computer science as an undergraduate at a time when she didn't even own a computer. Talk about entrepreneur ingenuity. Rogers bootstrapped Websmith, her first software development company for fourteen years. Now, she is building her second company, Time Study, an enterprise software provider leveraging emerging technology to innovate time reporting and to offer better business insights to its customers. The Time Study team is on a mission to eliminate time sheets. (Everybody hates timesheets, as she says. We agree) At the end of 2017, Rogers closed her first round of seed funding for Time Study. She is definitely an innovator you should keep an eye on.
Sheena Allen, CapWay
Sheena Allen is the founder and CEO of CapWay, a financial technology company that provides access to financial education, tools and services to underserved markets. CapWay offers financial educational content, pre-paid cards, bank-issued debit cards, and services geared toward millennials. As a Mississippi native, Allen says she recognized the gap that existed among people in her home state, and she knows the market she is serving well. Allen started her first company, Shena Allen Apps without any background or knowledge in tech. We've been following Allen since her first foray into tech, and we're excited to see what's next for the founder who has always proudly repped her southern roots.
Sevetri Wilson, Resilia
Sevetri Wilson is the founder of Resilia (formerly ExemptMeNow), a technology company that builds data-driven communities. Customers use Resilia's products to access on demand technical assistance, evaluate their progress, and strategize for maximum impact. Wilson became the first African American woman in Louisiana to raise over $1 million in venture capital. She started her first company, SGI Cares, a strategic communication firm she started in 2009 and built into a multi-million dollar agency. We've followed Wilson from the inception of Resilia (formerly ExemptMeNow), through her fundraising to date.Since then, she has raised a total of $3 million in venture capital. Wilson is putting a spotlight on New Orleans, and she is determined to start and grow her company in her home state.